Other features
Preserve position of desktop icons
Depending on your system configuration, you may experience the problem that desktop icons don't stay where you put them after restarting the system. UltraMon fixes this problem by automatically restoring desktop icons to their previous positions when UltraMon starts.
Disable or enable secondary monitors
You can quickly disable or enable secondary monitors from the UltraMon menu or with a hotkey. When re-enabling secondary monitors, windows are moved back to their original positions.
Change the primary monitor
Enables you to quickly change the primary monitor from the UltraMon menu.
Custom Display Properties applet
A more powerful replacement for Display Properties with support for quickly changing refresh rate and disabling/enabling secondary monitors. Also supports exact positioning of monitors by entering coordinates directly. Unlike Windows Display Properties, more than 10 monitors can be configured.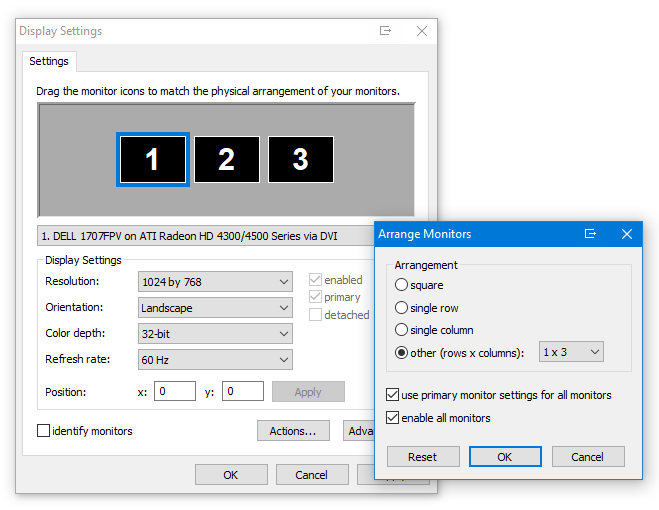 Hotkeys
Various hotkeys are available:
Move window to next/previous or primary monitor
Maximize window to monitor or desktop
Center mouse on primary monitor
Move mouse to next/previous monitor
Disable or enable secondary monitors
Launch screen saver
Run application or script
Launch UltraMon shortcut
Apply display profile
Lock mouse to active window or primary monitor