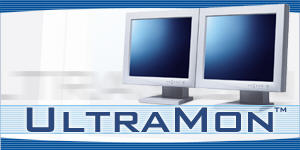 You are here: Home > UltraMon™
| | | |
| --- | --- | --- |
| | Get the most out of multiple monitors with UltraMon™ | |

UltraMon is a utility for multi-monitor systems, designed to increase productivity and unlock the full potential of multiple monitors.
efficiently move windows and maximize windows across the desktop
manage more applications with the Smart Taskbar
control application positioning with UltraMon Shortcuts
multi-monitor support for desktop wallpapers and screen savers
mirror your main monitor to secondary monitors for a presentation
For more information, read the Overview and take the Feature Tour. A full-featured trial version is available for download.
News: Dec 25, 2012 UltraMon™ 3.2.2 released
UltraMon 3.2.2 is now available for download. New in this release: the window buttons now match the look of the native buttons on Windows 8, and several bugs have been fixed. See the release notes for more information.

This is a free upgrade if you have a version 3 license.
Copyright 2000-2015 by Realtime Soft Ltd. UltraMon is a trademark of Realtime Soft Ltd.